Mr.

Mark S. Yost  – Director of Bands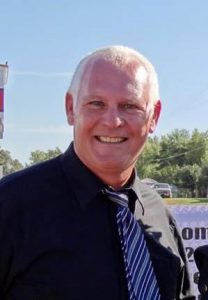 Mark S. Yost is a native of Reed City, Michigan and was hired as the Associate Director of Bands and Director of Jazz at Northwestern High School in 1997 and has served as the Director of Bands since 2012. During his tenure at Northwestern, the bands have earned consistent superior ratings at state and regional festivals and have consistently earned the SCBDA Outstanding Performance Award. The NHS Bands have performed at state and national music conferences and have traveled to perform in New York, Chicago, Dallas, London, and Hawaii. In addition to his work at Northwestern, Mr. Yost also assists with the Dutchman Creek Middle School and Rawlinson Road Middle School band programs.
Mr. Yost also works as a freelance musician in the Charlotte region. He is currently the principal trumpet in the Central Piedmont Community College Summer Theater Orchestra, has recorded with the Charlotte Jazz Orchestra, and performs regularly at churches in Charlotte and Rock Hill. Mr. Yost is a graduate of Central Michigan University (BME) and Bowling Green State University (MME). He is married to Hilary and they have three children, Elizabeth, Andrew, and Olivia.
---
Mr.

Ryan W. Tinker – Associate Director of Bands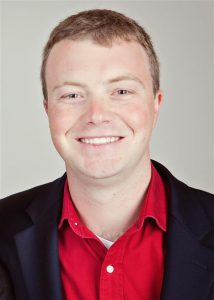 Ryan W. Tinker, an NHS alumnus, currently serves as the Associate Director of Bands at Northwestern High School in Rock Hill, SC. Prior to his appointment at Northwestern, Mr. Tinker served as the Director of Bands at Charlotte Catholic High School from 2012-2014 and as an Assistant Director of Bands at York Comprehensive High School from 2010-2012.  He received a Masters of Music in Instrumental Conducting from the University of South Florida where he served as a graduate assistant for the USF Bands.  At USF, Mr. Tinker studied conducting with Dr. John C. Carmichael and Dr. William Wiedrich – and trombone performance with Mr. Tom Brantley.
Mr. Tinker received his Bachelor of Music with Emphasis in Music Education and Trombone Performance from the University of South Carolina. While at USC, he studied trombone with Dr. Brad Edwards and conducting with Dr. Rebecca Phillips, Dr. Andrew Gowan, Dr. David O'Shields, and Mr. James Copenhaver. Mr. Tinker received the Robert Van Doren Award (2008) and the Cantey Award of Excellence (2007), the two highest and most prestigious awards given by the USC School of Music to an undergraduate with outstanding musical, academic, and leadership skills.  
Mr. Tinker was a member of the Cadets Drum and Bugle Corps from 2005–2008, playing euphonium and serving as horn sergeant and section leader for the corps. He is also a member of the International Trombone Association, NAFME, Pi Kappa Lambda, NBA, SCMEA, SCBDA, Phi Beta Mu, and is a South Carolina Teaching Fellow.  He received an honorary membership into Kappa Kappa Psi, in recognition for his outstanding contributions and dedication to the bands at the University of South Florida. In addition to teaching band at Northwestern, Mr. Tinker serves as the IB Music instructor at NHS. Mr. Tinker lives in Rock Hill, SC with his wife Katie, a math teacher at Northwestern High School.  
---
Mr.

Kyle Merck – Director of Percussion Studies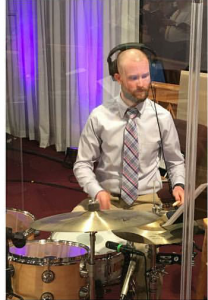 Kyle Merck, an NHS alumnus, holds Bachelor's and Master's degrees in Music Performance from Winthrop University. He has been on staff with the Purple Regiment since 2005, and became the Director of Percussion Studies at NHS, Rawlinson Road MS, and Dutchman Creek MS in 2012. Before coming to work at NHS, Kyle taught private lessons in the Charlotte area. He is an active performer with many jazz, rock, and show bands, and has been the drum set player at First Baptist Church in Rock Hill since 2014. He and his wife Sara have a son, Henry, and 2 dogs: Alfred and Millie.
---
Mr.

Will Archie – Colorguard Director

More info coming soon!